4 Concerns for Hiring Emergency Maintenance Services to Be Aware of
By: Homee Team on October 02, 2020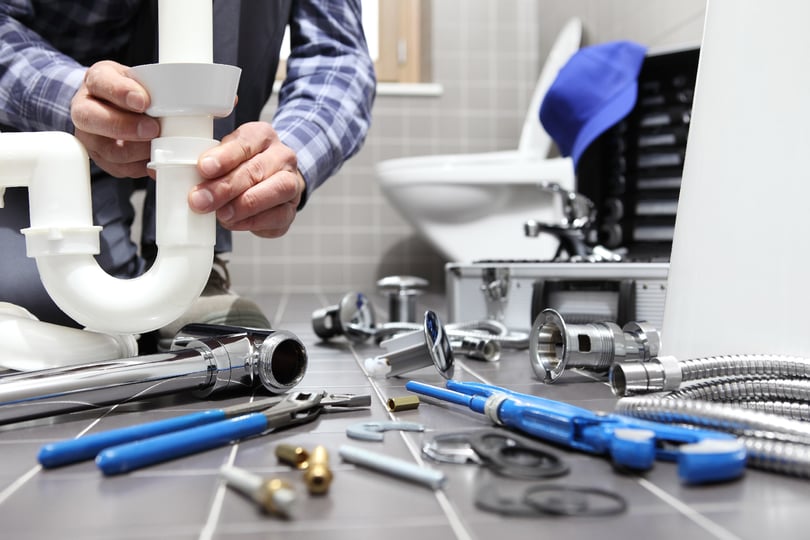 4 Concerns for Hiring Emergency Maintenance Services to Be Aware of
When a property manager searches for "emergency plumbing service near me" or "emergency air conditioner repair," or any other kind of emergency maintenance services from a contractor they don't know, there are always a few concerns.
The question is, how can property managers address these concerns so they know they're going to receive top-quality property maintenance services? Here are some of the major concerns that seasoned property managers often have when hiring home repair and maintenance specialists in an emergency.
Is the Property Maintenance Specialist Trustworthy?
When hiring a new company or person for emergency maintenance services, there is always the issue of trust. Can the emergency electrician be trusted to do the work the right way? Trust can be hard to establish when you pull a random company out of a phone book or Google search.
For example, an emergency plumber may claim to be trustworthy, but without actually talking to their past customers, it is hard to verify—and few property managers have the spare time necessary to thoroughly background check every technician that a property maintenance and repair company might send. This is why many property managers seek out referrals from trusted colleagues or other sources.
Does the Emergency Maintenance Specialist Have the Right Licenses?
Part of being able to trust an emergency maintenance service provider is knowing that they have the right skills for the job. Many forms of property maintenance require a specially-licensed contractor. For example, an emergency electrician should have a specialized license in electric repair from a licensing board in the state where they do business.
Having emergency property maintenance services performed by an unlicensed contractor may leave the property manager open to various liabilities—the specific liabilities vary from case to case depending on what issues crop up, as well as local and state regulations.
Examples of liabilities that may be faced for unlicensed work include:
Being Held Responsible for Damage Done by the Unlicensed Contractor. According to information cited in an allpropertymanagement.com article on the subject, "if you don't hire a licensed and insured contractor to handle your project, you're the general contractor!" This leaves the ultimate responsibility for any damage done by the unlicensed contractor on the property manager's shoulders.
Workers' Compensation Liabilities. Another issue that may crop up when working with unlicensed contractors is that one of their employees may become injured on the job—and the contractor may not have workers compensation insurance to cover the costs. In the allpropertymanagement.com article mentioned above, they cited a California case called Mendoza v. Brodeur, wherein "a homeowner asked his neighbor to do some work for him on his home. But the neighbor got hurt on the job… Since workers compensation wasn't there, the homeowner has to cover the costs personally."
What Protections Do I Have if the Emergency Maintenance is Subpar?
Even with a reputable and licensed home repair and maintenance specialist, there is still the risk of work being left incomplete because the contractor missed something. If that happens, property managers need to have some kind of protection or guarantee that they can rely on.
For example, if plumbing work is incomplete because the emergency plumber forgot to properly seal a wax ring under a toilet, causing dirty water to spread, is the plumbing company going to cover the cost of the damage?
It's important to check if an emergency maintenance services provider is properly insured, as well as what specific guarantees they're willing to supply concerning the quality of their work.
Will I Only Be Charged for the Work the Property Maintenance Specialist Actually Performs?
Most home repair and maintenance specialists charge for their services by the hour—and the hour is typically rounded up. If the emergency air conditioner repair tech is there for 15 minutes, then they usually charge for a full hour.
If the property maintenance specialist goes out to lunch mid-job, how can you be sure you aren't being billed $50-$100 extra for an hour when the electrician was not actually on-site?
There is often a concern that property maintenance specialists will milk the clock to earn extra money for minimal effort. However, there are ways to resolve this issue—such as using a property maintenance services app to find emergency repair specialists.
How HOMEE Addresses Concerns for Hiring Emergency Maintenance Services
Busy property managers rarely have the time necessary to go through the entire process of qualifying and background-checking every emergency maintenance vendor that turns up in a search—especially not when 2A has raw sewage leaking out the front door and needs an emergency plumbing service to fix things now. Homee On Demand is a mobile app that gives renters and property managers access to licensed, background-checked specialists on a moment's notice.
To request a property maintenance or emergency repair job, all a Homee On Demand user needs to do is:
Tap on the button for the specific trade they need;
Log the location of the job; and
Add notes and photos to describe the job.
Homee On Demand will match the job to a nearby property maintenance specialist (or "Homee"), who can be dispatched to the jobsite as soon as possible. Each of these Homees goes through a thorough vetting process before they're added to the network—HOMEE does the qualifying process so you don't have to.
Jobs posted through Homee On Demand are put on a timer that is billed down to the minute—not the hour. So, property managers only have to pay for the time that their home repair and maintenance pros are onsite and working.
Concerns about billing are further managed by the Homee On Demand review process. At the end of the job, the contractor submits a review of the work they performed, a breakdown of the material and labor costs involved, and a clear statement of the time spent on site.
Want to learn more about how you can find licensed, reliable, and insured property maintenance pros to complete work on the properties you manage on a moment's notice? Talk to a Homee On Demand expert now!