Should You Focus On Home Remodeling in 2019?
By: Homee Team on January 09, 2019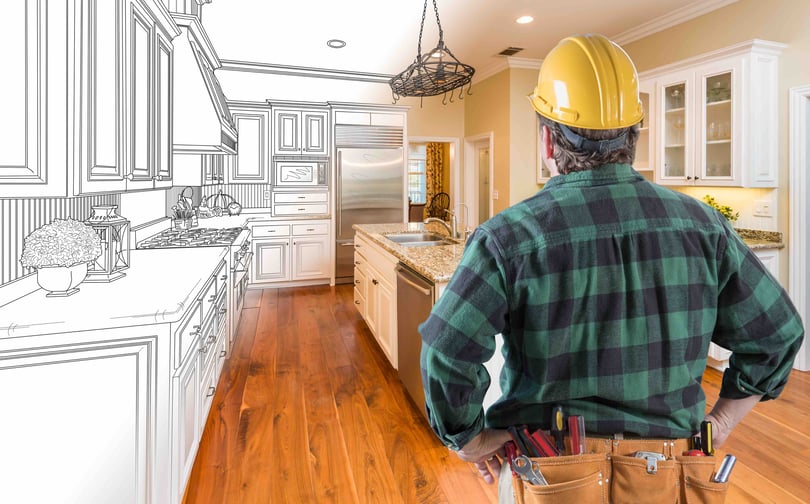 Home remodeling is trending upwards in recent years. As noted in a Joint Center for Housing Studies (JCHS) of Harvard University article:
"Strengthening employment conditions and rising home values are encouraging homeowners to make greater investments in their homes. Upward trends in retail sales of building materials and the growing number of remodeling permits indicate that homeowners are doing more—and larger—improvement projects."
While the Harvard article is focused primarily on homeowners rather than renters (and property managers), the fact that there is a home remodeling trend should have property managers curious about how they can leverage that trend to attract and retain renters.
Is rental home remodeling something that you should focus on in 2019? Here are a few insights into the potential benefits of remodeling a home for your renters:
The Remodeling Industry is Expected to Hit $340 Billion in 2019
According to the JCHS article cited earlier, "annual spending on residential improvements and repairs by homeowners is set to exceed $340 billion" in 2019. The sheer size of the home remodeling industry reveals just how large public interest is in having modernized or customized housing.
So, finding some home remodeling contractors to make even minor improvements to a property can help to increase the property's value and appeal to potential renters.
Remodeling a Home Can Help Improve the Efficiency of Its Utilities
Utility costs can be a major concern for both property managers and renters. There are many enhancements to a property that can fall under the property remodeling umbrella that may improve efficiency to reduce utility expenses going forward.
For example, replacing showerheads with low-flow models can reduce water consumption—lowering the water bill from month to month in counties/cities that bill water by the amount used. Replacing fluorescent lights with newer high-efficiency LED models that last for years reduces both electric bills and keeps future maintenance costs down. Replacing single-pane windows with double-paned ones improves insulation—reducing climate control costs throughout the year.
Reducing the cost of utilities can be vital for attracting and retaining renters. Because, as noted in a JCHS publication, "the lack of affordable rentals in high-cost metros may be putting low-income households at greater risk of housing instability, evictions, and homelessness." By reducing the cost of utilities, a rental property can be made somewhat more affordable—making it easier to pay the rent and keeping renters motivated to remain.
Property Remodeling Can Help Expand the Available Space in Some Properties
In many properties, especially older ones, there may be design features that waste space without providing many benefits. Remodeling these properties could allow property managers to rework the layout of the spaces inside to increase the size of the rooms in the property—and, thus, increase their value. Or, a multi-family property could be modified to add extra rooms as needed to accommodate more (or larger) families.
This can help attract new renters and improve the amount of rent collected from a given property (either by increasing the value of the space or by increasing the number of tenants that can be supported).
The choice between remodeling a home to create larger rooms to increase rent values or to increase the total number of rooms may be dependent on local rental market conditions such as:
Median income for the area;
Average family size for the region;
Current and projected demand for specific types of living spaces; and
Demand for specific amenities in the region (baths vs. showers, large vs. small kitchens, etc.).
In affluent regions where incomes are high and families are relatively small (or renters tend to be single), remodeling a property to have fewer, but larger, rooms may be ideal. If incomes tend to be lower and renters are commonly married with children, then remodeling a structure to have more rooms that are smaller may be better.
Rental Home Remodeling Can Help Improve Property Security
According to a joint study by Kwikset and Trulia, the top two concerns for new homebuyers are price (88%) and security (76%). Remodeling a home to improve its overall security, such as by replacing the locks, using strong security doors, installing shatter-resistant windows, and installing security systems/alarms can help make a property more attractive to security-conscious renters. In fact, some renters may be willing to pay a premium to live in a space that has strong security features.
Considering how much of an impact property remodeling can have on the value of a rental property, it is likely to become a key property management strategy over the coming years—one that property managers will apply to keep renters happy and improve their revenues in the future.
Want to learn more about property maintenance issues and how you can control your costs for property maintenance while increasing the speed of service? Reach out to the HOMEE team today to learn about our on-demand property maintenance solution.