Do You Need an EV Charging Station for Your Rental Property
By: Homee Team on October 02, 2020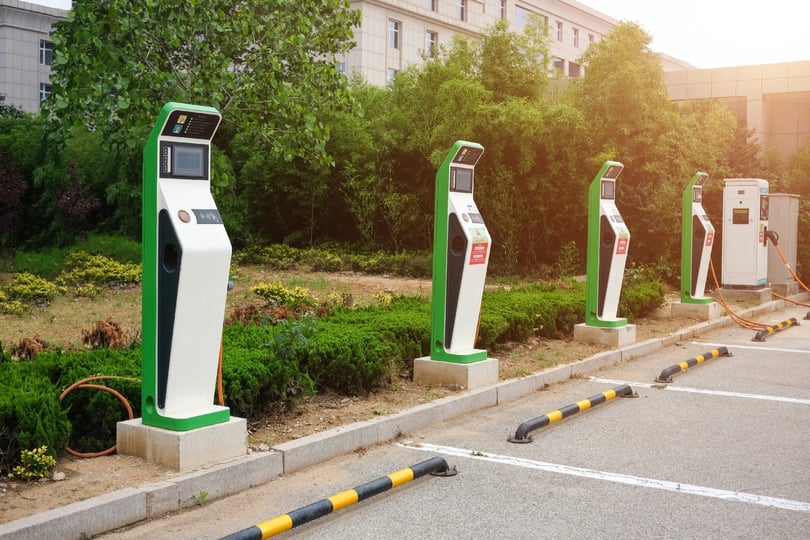 Do You Need an EV Charging Station for Your Rental Property
Electric vehicles (EVs) are often touted as the eco-friendly alternative to gasoline-based vehicle powertrains, with a smaller overall carbon footprint than their gas-powered counterparts. For a long time, electric cars were limited by factors such as having a short range, long charging time, and high initial sticker price. but recent advancements in technology have created cars that can travel hundreds of miles on a single charge and charge to 80% or more in a little over half an hour using home EV charging stations. These newer-model electric vehicles are getting more affordable as the technology becomes more commonplace—which is leading more Americans to purchase electric vehicles (and plug-in hybrids).
The question is this: As a property manager, should you install EV charging stations to make your rental properties more attractive to electric vehicle owners?
Here are a few things to consider before installing charging stations for electric cars in your residential properties:
Alternative Fuel Vehicles Are Becoming More Popular
Projections from Bloomberg state that "by 2040, 55% of all new car sales and 33% of the global fleet will be electric" and that "The upfront cost of EVs will become competitive on an unsubsidized basis starting in 2024. By 2029, almost all segments reach parity as battery prices continue to fall."
While 2040 is a long way off, it does highlight how the alternative fuel vehicle market is slowly gaining steam. One of the reasons many people might consider an electric vehicle purchase, aside from the ecological benefits, is the volatility of gas prices. According to statistics from Kiplinger, as of March 30, 2019:
"Gas now costs 22 cents more on average than it did a month ago… U.S. benchmark crude is on the cusp of $60 per barrel. A few months ago, it was trading near $43. Moves by OPEC and Russia to reduce exports have sent oil prices soaring. At the same time, drilling activity in the United States has fallen, which points to less domestic production on the horizon."
When consumers feel the pain at the pump, they are more likely to consider using alternative fuel vehicles and electric cars. As electric cars become more popular, the demand for apartments with EV charging stations will likewise become stronger.
Adding Charging Stations for Electric Cars Can Attract Certain Demographics
According to survey data cited by ReliablePlant.com, there are three key demographic groups that purchase electric vehicles:
People who are environmentally-conscious
Technology/car-driven consumers
Frugal travelers who want to cut vehicle ownership costs
Electric vehicles fill these demographics' wants in distinct ways. Their lower carbon footprint attracts environment-friendly consumers, the fact that they're a newer technology attracts the tech-curious, and their lower long-term maintenance and "fuel" costs attract frugal travelers who are willing to put up with a higher initial cost for long-term savings.
How do electric vehicles reduce long-term costs? As noted by the ReliablePlant.com article, "Although charging costs can vary based on the electrical grid infrastructure, GE estimates a full charge for a 24 kWh battery using its new WattStation charger will cost approximately $3.50 – $4.00, based on average electricity rates." Compare this to a gas-powered vehicle, which averages $2.56 a gallon (as of March 30, according to Kiplinger). For a ten-gallon tank, that would be $25.60 for a complete refill. Additionally, EVs do not require many of the same maintenance measures as gas-powered vehicles (such as oil changes) since their engines don't have as many moving parts.
By adding home EV charging stations to your residential properties, you can make them far more attractive to environmentally-conscious and technology-driven renters. Having apartments with EV charging stations can be a major differentiator from competitors, offering current EV owners (and those planning to buy an electric vehicle in the near future) a much-needed convenience factor—charging an electric car in an apartment complex instead of having to hunt down a commercial EV charging station.
It is important to note that if a property manager installs an EV charging station in a region where there are few commercial EV charging stations available, electric car owners will be strongly attracted to that property, since it will be one of the few places they can get a fast charge.
How to Add an EV Charging Station
There are three different "levels" of electric vehicle charging stations, each one with increasing charging speeds:
Level 1 Charging Stations. These are simply 120-volt wall outlets. There is no equipment to install or manage—unless you need to put a new outlet somewhere where the EV's charging cable can reach. Multifamily properties with parking garages might designate spaces near electrical outlets as EV vehicle parking reserved for EV owners. Single-family homes might just use an outlet in the home's garage. These, naturally, provide the slowest charging speed. So, many residents use them for overnight charging.
Level 2 Charging Stations. As noted by EnergySage.com, "A level 2 EV charger uses 240 volts of electricity. This has the benefit of offering faster charging time, but it requires a special installation procedure as a standard wall outlet only provides 120 volts." To install one of these requires the services of an experienced electrician (and possibly one with a license, depending on the state where the charging station is being installed).
Level 3 Charging Stations. These are the fastest, most powerful EV charging stations around. However, their cost is prohibitive for most single-family residences. These could be considered commercial EV charging stations, used for roadside stations or for car dealerships to quickly charge any electric cars they have on the lot. Could be viable for a multifamily building where multiple electric cars need charging, but are usually too expensive to justify the cost over a level 2 station.
Most home EV charging stations would be "Level 2" stations. Many automotive manufacturers that sell electric vehicles offer EV charging station installation services as a part of their EV sales process.
Should I Install an EV Charging Station in My Residential Property?
The answer depends on the prevalence of electric vehicles in your market, or even among your current renters. If you already have renters who own an electric vehicle, installing a level 2 EV charging station can help you keep those renters—especially if there is a lack of other rental properties with electric car charging stations. The convenience factor can be an enormous competitive advantage.
Meanwhile, if you're in a market with a large electric vehicle presence, then adding EV charging stations may be a necessity. Otherwise, you may fall behind other property management companies that cater to EV owners.
However, if there are relatively few EV owners in your market area, then adding an EV station may not make financial sense right now. This is especially true since, as the technology becomes more common, it is more likely to decrease in price—which may make the cost of adding an EV charging station lower in the future.
As with any rental property upgrade or remodel, adding charging stations for electric cars should be a decision based on careful research of what renters in your market are looking for.
Need help finding an electrician who can install an EV charging station in your rental properties? Homee On Demand makes finding the perfect pro for your property maintenance and renovation needs quick and easy!