Plumber Free Estimate: How To Get a Quote for Your Project
By: Homee Team on June 10, 2020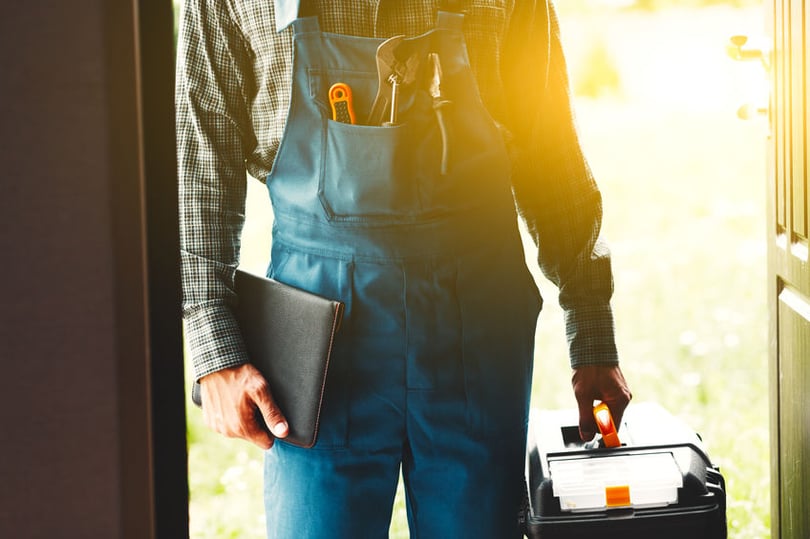 Plumber Free Estimate: How To Get a Quote for Your Project
Most homeowners seek a plumber free estimate because they don't know how much a project should realistically and reasonably cost. It's difficult for many homeowners to know whether they are getting a fair deal or not. As a result, most people go with their gut – hoping they are charged fairly by the company they call.
There is a better way.
Get Your Plumber Free Estimate
You can get an accurate idea of what a plumbing project should cost and how long it should take. To get a free plumber estimate, use this guide and HOMEE's Home Project Cost Calculator.
Go to the Cost Calculator now to find out how much you can expect to pay for plumber services in your area. Then, use this guide to get a better idea of what factors help determine the rate in your free plumbing estimate.
What Goes Into a Plumber Free Estimate?
The free estimate that your plumber provides covers two parts: the cost of the parts and the cost of the labor. Labor is typically charged by the hour, meaning projects that take longer will cost more. Parts are the items needed to complete your project.
Plumbing projects fit into four categories:
Low parts, low labor: when the parts are relatively affordable and can be installed in a short period of time (like replacing a $10 flapper inside a toilet bowl).
Low parts, high labor: when the parts are affordable, but the job is complex. This project may cost more if it requires specialized knowledge or a full day to complete.
High parts, low labor: when the parts may be easy to replace, but the cost of the parts are high. For example, if you replace an entire toilet or water heater.
High parts, high labor: when the materials needed are expensive and the project will take several hours or days. This could include replacing a septic tank that is buried in the ground.
When you get a plumber free estimate, it will be based on the complexity of the work and how long the project will take. This gives you an idea of the hourly base for the work. Then, it's only a matter of understanding the prices of different parts to see if you are being charged fairly.
Ask For Separate Parts and Labor Costs in Your Estimate
As you contact different plumbing contractors for your home project, ask them to break out the parts and labor costs on the plumber free estimate.
Many reputable plumbers feel confident explaining how much each part costs and why some parts are more expensive than others. They will also stand by their hourly rates because they know their worth and industry expertise. This transparency alone proves that the plumber is not trying to overcharge you and helps you set a baseline for estimated hourly plumbing rates in your area.
Not all plumbers are able to provide a detailed estimate like this. Some companies won't include the parts and labor differences on the estimate sheet because it is against their policies. If this is the case, consider looking up the parts on your own to get an idea for what percentage of the estimate goes toward the plumber's labor.
Compare Multiple Plumbing Professionals
If you want to get an idea for the best pricing for your plumbing project, you may need to reach out to multiple plumbers and plumbing companies in your area. This will help you understand what is considered expensive and affordable for the project you want to complete.
While some homeowners want the cheapest option, others are willing to pay more if they suspect the service will be better or if the work comes with a better warranty.
This process of calling and comparing plumbing costs is often easier said than done.
In the event of major plumbing problems or a plumbing emergency, you just want someone to come out fast. You may not have time to call multiple companies. In that event, use HOMEE's Home Project Cost Calculator to quickly get a plumber free estimate (and use our on-demand home services app to get someone out to fix your problem as soon as possible).
Keep in mind that many plumbing companies charge more for premium calls (emergency work orders completed late at night, on weekends, or during major holidays because of plumbing disasters). This will increase your estimated costs across the board.
Get an Estimate Before You Approve the Work
While the plumbing companies you contact will be able to provide a rough estimate for the work, there are some situations where they will want to see your home and the plumbing situation before providing an estimate. This may slow down your estimate collection if you need to meet multiple plumbers throughout the week. However, there are oftentimes too many factors (like age of the plumbing and build of the house) that impact what parts will be needed and how long the work will take.
That being said, do not hire a plumber until they provide an estimate for the work – with a plan to stick to that estimate throughout. This will prevent contractors from driving up your costs mid-project, knowing that you will agree to anything just to get the work done.
Get Your Plumber Free Estimate with HOMEE
The costs of hiring a plumber vary by region. Some cities have higher costs of living or more competitive plumbing markets. This is why it is important to look for a plumber free estimate that is based on your specific zip code, instead of a national estimate.
At HOMEE, we developed a tool to help homeowners find the pricing estimates they need.
Enter your zip code and your service type to get an idea for the costs and fees that you should expect. Try our Cost Estimate Calculator to create a budget for your plumbing project. Then, use the HOMEE app to find top contractors in your area who can provide high-quality services at the estimated rate.