COVID-19 Eviction Guidelines: What Property Managers In Every State Need to Know
By: Homee Team on October 02, 2020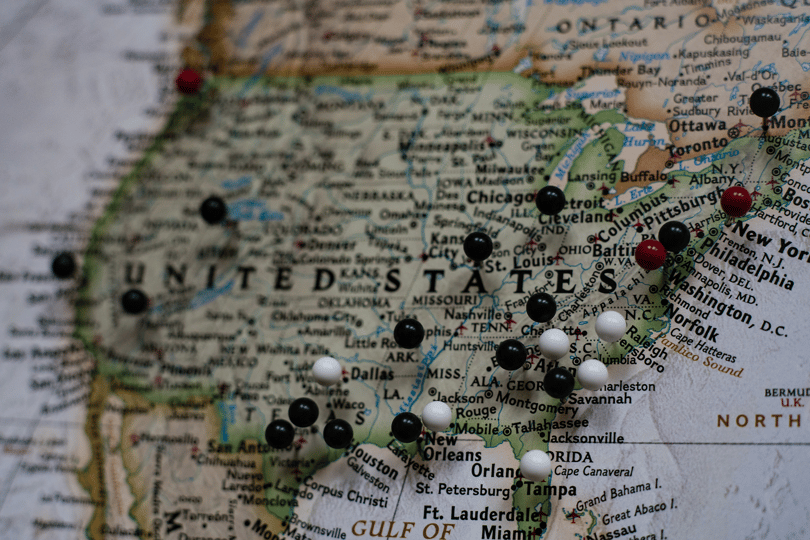 COVID-19 Eviction Guidelines: What Property Managers In Every State Need to Know
COVID-19 has caused Property Managers across the country to scramble and implement new policies and processes. Many have wondered how they can collect rent safely and if they are allowed to evict tenants who don't pay.
The answer is complicated.
Each state has its own COVID-19 eviction guidelines that expire at different times, and some states have relegated decision-making to city and county governments, meaning the rules vary from district to district.
Find your state to learn its latest rules and discover local resources for Property Managers.
Related: Property Maintenance During COVID-19: Keeping Up & Staying Safe
State COVID-19 Eviction Guidelines
Please note that these COVID-19 eviction guidelines are constantly changing, and the rules are being updated regularly.
Alabama
Enforcement of evictions was suspended by Governor Kay Ivey during the COVID-19 state of emergency; however, this was set to expire on April 30. As the state begins to open up, Property Managers may be allowed to move forward with the eviction process.
The Alabama Housing Finance Authority has COVID-19 information for renters and multifamily property managers.
Alaska
As part of the state's COVID-19 Economic Stabilization Plan released on March 20, Governor Mike Dunleavy put a 60-day ban on evictions and foreclosures.
Alaska's COVID-19 response website has several resources for individuals and Property Managers. However, the eviction guidelines default to the Federal Housing Finance Agency.
Arizona
Governor Doug Ducey issued an executive order on March 18, 2020, delaying all evictions for 120 days. You can read the executive order or visit the Arizona Department of Housing website for guidance.
Arkansas
In early April, evictions were not halted in Arkansas by law, though Governor Asa Hutchinson put a "practical moratorium" on them because the courts were closed and couldn't otherwise process the eviction notices. On April 29, 2020, however, the Arkansas Supreme Court issued a ban on any evictions on properties that receive federal funding until July 25.
California
On April 6, 2020, Governor Gavin Newsom suspended most evictions, including for federally-funded housing, until the state of emergency ends in California. However, the Governor also granted local cities and counties the ability to take these protections further and issue longer stays on evictions as needed. Property Managers should turn to their municipalities for COVID-19 eviction guidelines. You can also read more on the California Apartment Association's website.
Colorado
Governor Jared Polis issued an executive order on April 30, 2020, banning evictions for 30 days unless another executive order is issued to extend it. The Colorado Department of Local Affairs has a housing page that Property Managers can turn to for COVID-19 eviction guidelines.
Connecticut
Governor Ned Lamont issued a stay on evictions on April 10, 2020, which extends to July 1. Additionally, landlords must grant tenants a 60-day grace period to pay rent instead of the standard 9-day grace period. Renters can also apply their security deposit to the rent owed. Visit the Connecticut state website for more information on housing for homeowners and renters.
Delaware
According to the executive order issued on March 24, 2020 by Governor John Carney, evictions are banned until the Delaware state of emergency is lifted. Landlords are also forbidden to charge late fees or interest on rent payments. The state of emergency was extended until further notice on April 6, 2020 by executive order. The Delaware Apartment Association has information about what this means for Property Managers.
District of Columbia
Per the District of Columbia Courts website, "all evictions of tenants and foreclosed homeowners are stayed (postponed) during the public health emergency declared by the Mayor." The Office of the Tenant Advocate has updated its website with COVID-19 resources that property Managers can review.
Florida
On March 18, 2020, Governor Ron DeSantis issued a 60-day ban on evictions for tenants covered under the Federal Housing Administration. The Florida Apartment Association has guidelines for re-opening and working with residents during COVID-19.
Georgia
The Georgia State Supreme Court extended a ban on non-emergency proceedings until May 13, 2020, which includes eviction hearings. The City of Atlanta issued its own eviction suspensions in lieu of a state guideline. Other cities may have issued their own orders as well.
Hawaii
Governor David Ige issued an executive order banning evictions as long as the state is under a state of emergency, but may extend the ban beyond that if necessary. Hawaii has a 37% unemployment rate due to Coronavirus, which means many residents will be unable to pay their rent even once the state opens up. The Legal Aid Society of Hawaii has resources for renters who need to know their rights, but Property Managers can also use these resources to develop their best practices moving forward.
Idaho
Evictions for nonpayment were halted until April 15, 2020 as the courts in Idaho were shut down. However, Landlords were still able to file evictions that could be processed later. This is an instance where towns and counties may have interpreted the law differently, and Property Managers should default to these guidelines instead.
Illinois
As of April 23, 2020, evictions are paused in Illinois through the executive order of Governor J. B. Pritzker. The website Housing Action Illinois has a section specifically for Housing Providers and Managers that can be used to guide an eviction strategy legally.
Indiana
Governor Eric Holcomb placed a ban on evictions starting March 19, 2020 and ending on May 1, 2020. However, Property Managers still need to follow federal guidelines from the CARES relief bill, which prohibits evictions on properties covered by federal aid until July 25. The Indiana state website has a page dedicated to eviction and foreclosure prevention, including resources for property managers and the latest news because of COVID-19.
Iowa
Governor Kim Reynolds placed a ban on evictions through April 16, 2020, though FHA-funded housing is protected through July 25. The Iowa supreme court allowed eviction hearings to be pushed back until after May 4.
Kansas
Governor Laura Kelly recently extended the state's ban on evictions via executive order during the COVID-19 pandemic to May 31, with the provision that she may extend it again depending on the number of Coronavirus cases in the state. The National Apartment Association has a page dedicated to resources within the state of Kansas.
Kentucky
According to an executive order by Governor Andy Beshear on March 25, 2020, evictions are suspended for the duration of the state of emergency. The COVID-19 pandemic has hit Kentucky particularly hard, with 70% of Lexington landlords reporting at least one or more tenants who could not pay rent in April.
Louisiana
On May 14, Governor John Bel Edwards confirmed that the stay on evictions will extend through at least June 5. With the announcement, the Governor encouraged renters to pay what they can when they can, and added that the state "can't continue to suspend this forever."
Maine
Governor Janet Mills issued an executive order banning evictions as long as her jurisdiction is under a state of emergency. She also introduced a new rental assistance relief program through MaineHousing with a budget of $5 million. Eligible renters can receive a one-time $500 payment to be paid directly to the landlord.
Maryland
On April 3, 2020, Governor Lawrence Hogan extended his executive order to protect both residential and commercial renters until the state of emergency is over. The Maryland Attorney General has a FAQ page that is regularly updated with answers for renters and Property Managers.
Massachusetts
Governor Charlie Baker issued an executive order banning most residential evictions for 120 days or 45 days from when the state of emergency is lifted. MassLandlords.net has resources for Property Managers to help follow the COVID-19 eviction guidelines.
Michigan
Governor Gretchen Whitmer originally signed an executive order banning evictions until April 17, 2020. However, this order continues to get extended as the pandemic continues. Most recently, the Governor pushed back the order to June 11, 2020.
Minnesota
Governor Tim Walz issued an executive order on March 24, 2020 that bans evictions until the end of the COVID-19 peacetime emergency. The Minnesota Housing website has copies of these executive orders along with resources for residents and Property Managers. There is also information on the federal response to housing during the pandemic.
Mississippi
Governor Ted Reeves announced that evictions may resume in his state on June 1, 2020. Individuals can read about housing assistance through the Mississippi Emergency Management Agency.
Missouri
While there was no state directive against stopping evictions, many cities and municipalities (including St. Louis and Jackson County) issued their own rules. For more information on COVID-19 eviction guidelines, turn to the Missouri Housing Development Commission and the St. Louis Housing Authority.
Montana
The Montana housing authority under the Department of Commerce has up-to-date information on evictions during COVID-19. For example, the ban on evictions was extended to May 24, 2020 and may be further extended depending on the state of the economy and the pandemic at that time.
Nebraska
Governor Pete Ricketts issued an executive order banning evictions until May 31, 2020. Along with the state response, there have been multiple local directives issued. For example, the Omaha Housing Authority has guidelines for city residents and Property Managers.
Nevada
Governor Steve Sisolak placed a moratorium on all evictions in the state until May 31, 2020. Turn to the Nevada Housing Division for COVID-19 resources.
New Hampshire
Governor Chris Sununu issued an executive order preventing evictions during the state of emergency. Housing Action New Hampshire and New Hampshire Housing both have resources to guide Property Managers and help residents.
New Jersey
On March 19, 2020, Governor Philip Murphy issued an executive order preventing evictions "for no longer than two months following the end of the public health emergency or state of emergency." For Property Managers trying to learn their rights, the New Jersey Apartment Association has several resources for managing employees and working with your residents.
New Mexico
The state Supreme Court of New Mexico issued a stay on eviction notices on March 24, 2020. There is no set date – only "until amended or withdrawn by future order of the Court." Housing New Mexico has an updated COVID-19 response page with a section specifically for property owners and managers.
New York
The state of New York has one of the strongest protections in place for residents. Evictions are suspended in the state until August 20, 2020. Commercial tenants are also protected. For New York City-specific guidelines, the NYC Department of Housing Preservation and Development has resources in multiple languages for both tenants and property owners.
North Carolina
The North Carolina courts have been leading the drive to prevent evictions during the COVID-19 pandemic. On April 2, 2020, the Supreme Court of the State of North Carolina postponed all district court proceedings until June 1, 2020. This means that while Property Managers can file eviction notices, they may not get processed or heard until June. Check out the North Carolina Housing Finance Agency for more information on available options.
North Dakota
The North Dakota Supreme Court paused eviction hearings until further notice as of March 26, 2020. The North Dakota state website has several resources on evictions and rental payments. This includes information on the new Emergency Rent Bridge for eligible renters.
Ohio
Ohio is a state where local municipalities issued eviction suspensions when the state would not. As of March 30, 2020, the state Supreme Court decided to temporarily continue eviction filings and foreclosure judgments. The Ohio Housing Finance Agency has guidelines for issuing evictions statewide along with resources for residents. Check local city and county ordinances for more information.
Oklahoma
Oklahoma Chief Justice Noma D. Gurich suspended all courts from March 27, 2020 through May 15, 2020. This means there could be a significant backlog of eviction filings that were submitted during this time. For COVID-19 resources and guidelines, visit the Oklahoma state website.
Oregon
Governor Kate Brown issued an executive order suspending eviction notices for 90 days unless extended by the Governor. This means the order is in effect until June 20, 2020. Certain municipal regions, like Multnomah County and Beaverton County, issued similar notices. The Oregon Housing and Community Services website prominently features resources for COVID-19.
Pennsylvania
All eviction proceedings are suspended until July 10, 2020, as ordered by Governor Tim Wolf. This executive order was issued on March 6, 2020, along with several state Supreme Court rulings to temporarily halt eviction hearings. Turn to the Housing Alliance of Pennsylvania for more information.
Rhode Island
The state Supreme Court of Rhode Island issued a suspension of nonessential court business (including eviction hearings) until May 17, 2020. This is in agreement with Governor Gina Raimondo's protection plan for the state. Rhode Island Housing is a great place to start for learning more about COVID-19 eviction guidelines.
South Carolina
Evictions within the state of South Carolina may move forward as of May 15, 2020. The SCHousing site has several resources for multifamily housing Property Managers as well as guidelines for renters.
South Dakota
South Dakota made no known suspensions on evictions during the COVID-19 pandemic. Property Managers can learn more about their rights through the National Apartment Association.
Tennessee
The Tennessee Supreme Court limited in-person court proceedings until May 31, 2020. However, some city ordinances may be issued to limit evictions beyond this. Turn to the Tennessee Office of the Governor for resources and information.
Texas
Evictions and debt collection may resume as of May 18, 2020. However, some county and city governments (like Travis County) may issue their own ordinances. Turn to the Texas Department of Housing and Community Affairs for updates.
Utah
Evictions were suspended until May 15, 2020 under an executive order by Governor Gary Herbert. The Utah Housing Coalition has a whole site dedicated to COVID-19 resources for both residents and Property Managers.
Vermont
The Vermont Senate voted to delay evictions until the state of emergency ends in its first ever remote vote on April 10, 2020. Governor Phil Scott was supportive of the legislation. Turn to the Vermont Agency of Commerce for more resources.
Virginia
Eviction hearings resumed in Virginia the week of May 18, 2020 after a two-month suspension. Housing Virginia has toolkits for both residents and Property Managers to navigate their rights during the COVID-19 pandemic.
Washington
Eviction hearings are suspended in the state of Washington until at least June 4, 2020 by executive order of Governor Jay Inslee. The Rental Housing Association of Washington has guidelines for housing providers and renters during the COVID-19 crisis.
West Virginia
West Virginia opened its courts back up on May 18, 2020 and experts expect an overwhelming number of eviction notices from landlords across the state. Our Future West Virginia has resource hubs for housing help and financial programs during this time.
Wisconsin
On March 27, 2020, Governor Tony Evers issued an executive order placing a 60-day hold on eviction hearings. This is set to expire on May 26, 2020. Look for local city resources for help with COVID-19. For example, the City of Madison has several resources to reference.
Wyoming
All in-court proceedings are suspended by the Wyoming Supreme Court until May 31, 2020. This includes eviction hearings. Check out the Wyoming Community Development Authority for property management resources during this time.
About HOMEE
At HOMEE, we help Property Managers stay informed about the latest best practices and guidelines for property maintenance. Our services make it easy to manage maintenance teams, prioritize repairs, and keep properties as welcoming and as safe as possible. Request a demo to see how HOMEE's desktop solution and mobile app can help put your property maintenance on auto-pilot.