The Rental Maintenance Checklist Every Property Manager Needs
By: Homee Team on March 27, 2020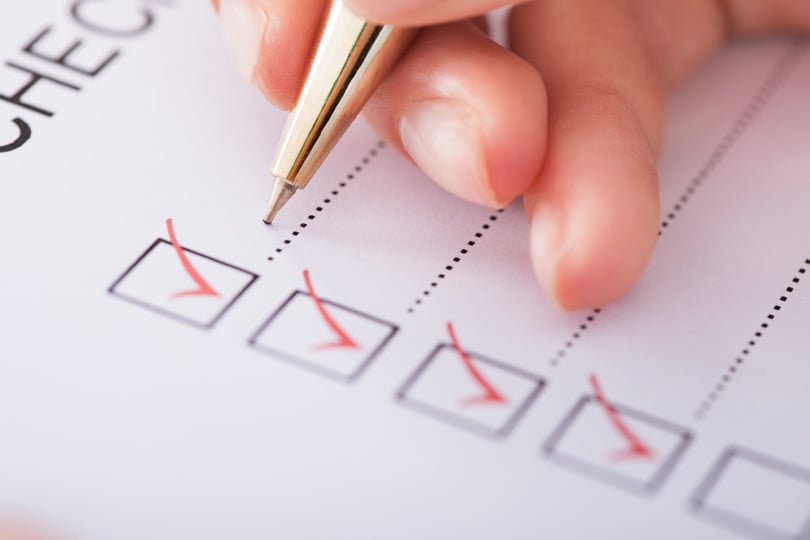 The Rental Maintenance Checklist Every Property Manager Needs
Property managers have a laundry list of maintenance tasks to manage every day. There are dozens of tasks to juggle to make a rental property clean, safe, and appealing to potential residents.
A rental maintenance checklist can help you make sure you don't miss anything.
Use this rental maintenance checklist—which includes tasks that need to be done daily, weekly, monthly, and quarterly—and assign it to your service and maintenance team so nothing slips through the cracks.
Daily Rental Maintenance Tasks
1. Empty and Clean Trash Receptacles
Empty the communal trash receptacles and ashtrays daily. This is aesthetically pleasing and prevents both a bad smell and pests like bees, raccoons, and coyotes from wandering through your property.
2. Keep the Pool and Water Features in Good Condition
Skim the pool and check the chlorine levels so the area is clean and safe. If your property has other water features like a pond or fountain, make sure it is running correctly and there is no algae buildup. Save money on property maintenance by being proactive about care for pools and water features.
3. Check Common Areas and Stock Amenities
Check common areas for items like toilet paper, hand sanitizer, soap, paper towels, and other amenities you may offer. Make a note of any necessary repairs, like a broken pool chair or a ping pong paddle gone missing.
4. Clean and Sanitize Common Areas
Wipe down countertops, elevator buttons, and benches, and conduct common area maintenance in places that multiple residents use each day. Make sure you clean and sanitize any gym equipment or bathrooms carefully.
5. Make Sure Residents Are Following the Rules
Walk through the property to make sure your residents aren't breaking any rules and address any complaints that you have received.
Monthly
1. Fill Potholes and Uneven Steps on the Sidewalk
Running over a pothole may inconvenience a driver, but tripping over the sidewalk can result in a twisted ankle or even a concussion. Walk through the property daily to look for hazards and set up monthly appointments to repair them.
2. Conduct Maintenance on Outdoor Lighting
Check the lights around your complex and dedicate one day each month to replacing burned-out bulbs are other electrical problems. A dark complex is also dangerous for walking and driving, and it may drive away potential residents who find it unsafe.
3. Remove and Replace Dead Plants
This can also be done weekly with the help of your lawn maintenance team. Inspect the landscaping for any dead or dying plants that need to be replaced.
4. Check for Leaks and Water Damage
Walk through the property with the goal of looking for potential plumbing problems or water damage. Look for stains on walls and ceilings as well as standing water on the ground. The sooner you can catch this, the better.
Quarterly
1. Prepare the Property for Seasonal Changes
Set aside a week to prepare for major seasonal changes in your area. This could include winter weather preparations or hurricane prep.
2. Perform Routine Pest Control
Work with a pest control company to keep ants, termites, cockroaches, rats, and other unwanted pests at bay. These exterminators can set up bi-annual or quarterly appointments depending on your needs.
3. Prune Trees and Trim Shrubs
You may be able to do this bi-annually in some areas. Prune your trees and prepare them for winter, namely to hold snow on their branches safely. Trim down shrubs so they appear uniform and neat.
Bi-Annually
1. Replace Fire Extinguishers and the Batteries in Smoke Detectors
Prioritize fire safety for your rental properties. Replace the batteries in the smoke alarms and test them when daylight savings time starts and ends. Also, check your fire extinguishers and other fire safety tools to make sure they are operational. You may need to do this more often depending on the fire laws in your state.
2. Schedule Routine Maintenance on HVAC systems
Replace your HVAC filters monthly, but also schedule routine maintenance to inspect and clean your furnace and air conditioning units. HVAC maintenance can extend the life of the units, saving you and your residents money.
3. Clean the Gutters
Clean out the gutters in the spring and in the fall. If gutters are packed full of debris, water doesn't have anywhere to go other than down the exterior walls of the structure.
Annually
1. Inspect and Repair the Roof
Climb up on the roof and check for leaks or damage that need to be addressed. This can also be done bi-annually if you want to inspect the roof before and after winter or before and after hurricane season: once for preventative care and once for possible repairs.
2. Pressure Wash the Side of the Building and Walkways
You may be able to get away with this every two years depending on your area. Clean the walls of the buildings, the walkways, and other hard surfaces. This prevents grime from building up and making your property look dirty or unkept.
3. Flush Out the Hot Water Heater
Hire a professional plumber to drain your hot water heater and push out any sediment or buildup. This can extend the life of your water heater and prevent plumbing disasters that could affect all of your residents.
Continue to Update Your Rental Maintenance Checklist
This rental maintenance checklist is a good place to start when creating a list of property maintenance jobs that need to be completed every day, week, month, and quarter. But, there are likely tasks that are unique to your specific rental property.
There may be things you need to add or remove depending on what type of rental property you manage and if you manage multiple rental properties.
If there are tasks we missed, be sure to add them to your calendar as a recurring daily task or seasonal maintenance item. Then, get property maintenance software that helps you get all of these tasks done efficiently.
Zip through your rental maintenance checklist with HOMEE, a property maintenance solution that provides immediate access to vetted, qualified home service professionals to get the job done quickly and on budget. See how HOMEE can help you manage (and complete) your rental maintenance checklist. Request a demo today.