Five Types of Electrical Repair and Services You Might Not Know
By: Homee Team on October 05, 2020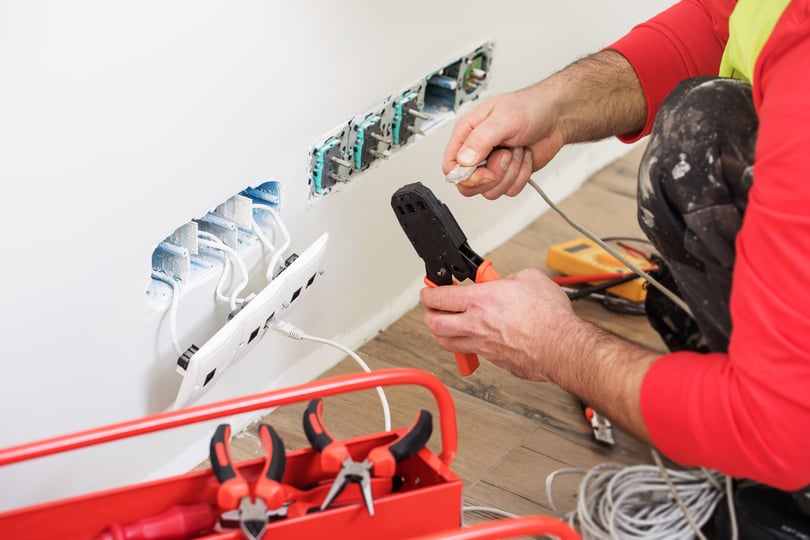 Five Types of Electrical Repair and Services You Might Not Know
Unlike a hole in the drywall or a creaky door hinge, a home's electrical system is not something that should be touched without a professional electrician present. Electrical systems are not only fickle, but dangerous – with the possibility of electrical fires and electrocution looming over the heads of inexperienced tinkerers.
This is why no property maintenance checklist is complete without a once-over from a licensed electrician. But don't worry – they do more than just confirm that your wiring is up to code. Electricians can perform a breadth of repairs and services that don't immediately come mind when you pick up the phone to request some help.
Types of Electrical Repair and Services
Licensed electricians perform a host of services including:
#1) Ceiling Fan Installations
Ceiling fans are versatile home fixtures that can help light a room while giving your air conditioner or HVAC system a break. Best installed in "lived in" rooms such as living room and bedrooms, ceiling fan installations or replacements aren't always cut and dry, especially if the room wasn't initially constructed with accommodating wiring.
Ceiling fans are little-appliance powerhouses that can improve home circulation and help reduce your monthly electrical bill. If you have a room that could use a cool breeze every now and then, consider calling an electrician to install the fan safely and efficiently. An electrician can also address existing ceiling fan problems such as flickering lights, slow blade oscillation, or rattling/grinding by assessing the fan's wiring and installing a replacement.
#2) Outdoor and Pool Lighting
A well-lit landscape or outdoor area is a huge draw when it comes to the curb appeal and functionality of a home. Outdoor electrical setups come with their own set of challenges.
Some landscapes call for suspended or elevated lighting, while others require specific amperage, low-voltage transformers, buried cables, and other specifications to stand up to energy demands and elemental exposure.
Don't put yourself at risk, get a professional electrician who can safely complete the job without sacrificing aesthetics. A professional electrician will come equipped with the tools needed to install your outdoor lighting safely and mitigate the risk of electrical shock and steep falls.
#3) Washer/Dryer & Appliance Lines
Older properties sometimes have difficulty holding up to the electrical and amperage demands of modern appliances. Installing large, new appliances like washers, dryers, flat screen TVs, and ovens isn't always as simple as unboxing and plugging it in.
Large appliances need to be properly wired to the home, which means that you may need to upgrade your electrical system prior to installation. Appliance wiring can be completed by installing a dedicated circuit, meaning the appliance is connected to its own electrical circuit to protect you, your home, and your new appliance.
This type of electrical service can be performed for any heavy energy consuming appliances like refrigerators, microwaves, sump pumps, outdoor lighting, dishwashers, and more. This type of electrical work is also commonly done in multi-family properties that use a lot of electricity in a concentrated area.
#4) Outlet Repair and Installation
Licensed electricians can do more than just repair a temperamental outlet – they can create new ones! Plugs are a hot commodity in residential properties.
How often have you checked into a hotel room only to discover that the nearest outlet was across the room? Were you happy about it? Outlet placement has become a huge selling point for homeowners and renters who want easy access to plugs for their electronic devices, lighting, and more.
An electrician will be able to assess the capacity of your home's electrical system to determine what kind of outlet is safest. The Electrical Safety Foundation International (ESFI) suggests owners of older homes ask their electrician if their home would benefit from AFCI protection. After an initial inspection is performed, your electrician can install a dynamic range of outlets and switches for all property needs including dimmers, timers, and even "smart" plugs or home automation.
#5) Panel Upgrades
Home electrical systems are complicated, and problems might not be isolated to a single plug or room. It's critical to have your property's entire electrical system checked to ensure the safety and longevity of the installation.
There are some warning signs to a faulty electrical system including: multiple blown fuses, crackling sounds from the fuse box, the presence of two-pronged outlets (non-grounded), and outlets that are hot to the touch – but some red flags are only detectable by a licensed electrician. Hire a professional electrician to fully inspect your electrical system every few years, or as soon as you notice signs of a problem. You may need to have your electrical panel upgraded. A panel upgrade will update your electrical system to meet the demands of everyday power consumption safely and effectively.
Related: The Most Common Electrical Issues in Your Home
Get Help with All Types of Electrical Repair and Services
Have you noticed some suspect sounds from your fuse box? Or are you looking to update your home's appliances and aren't sure if the electrical system can handle the upgrades?
Request a licensed and insured electrician to inspect your electrical system, perform repairs, or install appliances with HOMEE On Demand. You'll be shocked by HOMEE's fast, high-quality service, but safe from electrical hazards.