4 Things to Avoid in Your Property Maintenance Services
By: Homee Team on December 10, 2018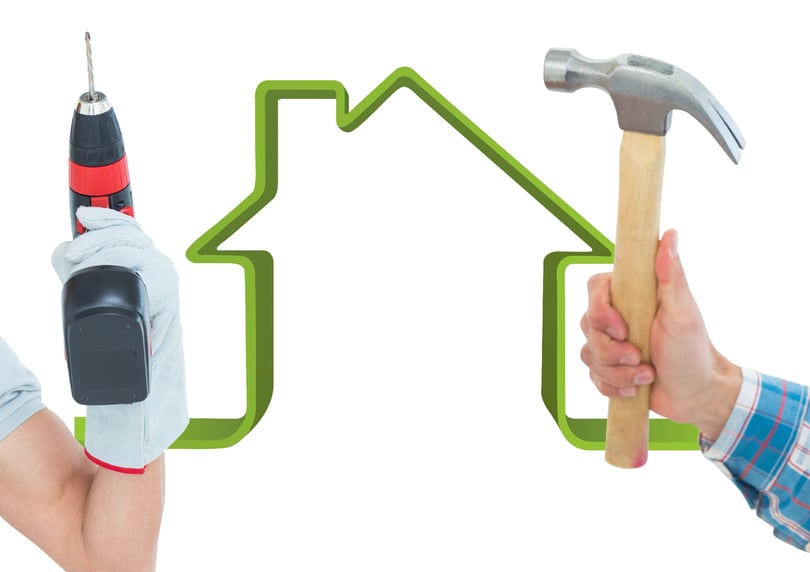 4 Things to Avoid in Your Property Maintenance Services
Property maintenance services play a critical role in keeping the properties you manage in top shape—which can help improve renter happiness and retention. Sometimes, though, it's just as important to know the things to avoid as it is to know what must be done. Property manager mistakes can cause financial and physical harm—especially if the manager is following half-baked home maintenance tips from a DIY site written by amateurs.
So, to help prevent property damage, here is a list of some property maintenance mistakes to avoid:
Property Maintenance Mistake #1: Pouring Bleach Down HVAC System Vents
Bleach should never be applied to the system's vents. The HVAC system can pull the chlorine fumes through it and distribute them throughout the building once it is turned back on. This poses a major respiratory health risk to anyone in the structure.
Property Maintenance Mistake #2: Mixing Different Chemicals and Elements
One of the major things to avoid, and one that professional cleaners learn about first, is the mixing of different cleaning chemicals. One common example that should be in every home maintenance guide is bleach and ammonia. When combined, bleach and ammonia cause the release of toxic vapors called chloramines.
While many property managers may know not to mix pure bleach with pure ammonia, they may not know how many other cleaning compounds contain one or the other. For example, as noted by Good Housekeeping, "Many glass and window cleaners contain ammonia." Using an ammonia-based glass cleaner with a bleach-covered rag could create hazardous fumes.
Another chemical combination to avoid is baking soda and vinegar. The combination mostly creates water (since one compound is a base and the other is an acid) and a foamy residue of sodium acetate most commonly recognized from science fair volcanoes.
Property Maintenance Mistake #3: Putting Off Regular Home Repair and Maintenance
A basic tenet of many home maintenance guides is the need for frequent preventative maintenance. However, it is all too easy for property managers to get preoccupied with tasks such as collecting rent, marketing vacant properties, and managing renter relations. These tasks tend to eclipse minor issues such as leaf-choked gutters, leaky faucets, and other minor property upkeep tasks. Unfortunately, these small issues can balloon into bigger ones with ease.
When this happens, conditions at their rental properties can slide to the point where the property manager receives an emergency maintenance request. For example, clogged gutters can become so heavy with rain and debris that they fall off the structure—or overflow. Leaky faucets can create large utility bills or eventually fall apart to cause mild to severe water damage.
While there are convenient property maintenance solutions to help hire qualified and trustworthy emergency maintenance technicians, it is better to prevent an issue than it is to wait for something critical to break.
Frequent emergency maintenance requests can be a major warning sign that a particular property is not being properly maintained. Tracking maintenance requests in a property management software can help managers see which properties are accumulating the most maintenance requests—and thus which properties need the most care.
Property Maintenance Mistake #4: Using an Amateur to Do an Expert's Job
Many property managers use an in-house team to handle basic maintenance tasks around the property—such as cleaning gutters, changing light bulbs, doing yard work, and swapping HVAC system filters. For common tasks, this is usually sufficient.
However, there are many tasks that require a licensed professional to perform them properly. This includes tasks like electrical repairs or major sewage system fixes. If a state-licensed professional is not used to perform these tasks, it can open up the property manager to issues such as:
Rejection of insurance payments on work completed.
Failure to complete necessary repairs.
Injury to renters (and lawsuits from injured renters).
Workers' Compensation claims.
Such critical property maintenance services need to be performed by a reliable technician who is properly licensed and insured. This helps to limit the property manager's potential liabilities while ensuring the maintenance is performed correctly the first time.
Avoid Making Property Maintenance Mistakes
Property managers can easily avoid making mistakes by using a property maintenance solution. Preferably, a comprehensive solution that combines easy-to-manage software with an extensive network of property maintenance service technicians from multiple disciplines. Using licensed, insured, and background-checked technicians helps prevent basic maintenance mistakes such as combining the wrong chemicals, while the software makes handling regular maintenance easy.
For example, the Homee On Demand property maintenance solution provides access to a vast network of property maintenance technicians who specialize in electrical, HVAC, plumbing, and handyman services. Also known as "Homees," these professionals are background-checked and licensed so property managers can rest easy knowing they have competent and trustworthy people handling their property maintenance needs.
In most cases, a Homee can be on site and working in as little as half an hour from the time that a property maintenance request is filed and approved.
Need trustworthy and reliable property maintenance services at a moment's notice? Talk to a member of the HOMEE team to learn more about Homee On Demand.